Stem cell therapy ended the pain and "gave life back" to Connie Beverage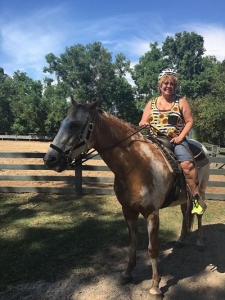 Three years ago, Connie Beverage was in constant shoulder and knee pain so much that normal daily activities were unmanageable. Reaching for a light switch, driving, doing dishes or taking laundry out of the dryer caused her to wince or grab her arm back in pain. Simply walking down the street was painful. Connie was struggling with osteoarthritis in her knee and multiple conditions in her shoulder: labral tearing, biceps tendinosis and osteoarthritis.
"I had to do everything with one hand," she said. "I couldn't even hold the hair brush or dryer for the relatively short amount of time it took to style my hair." She also had to give up her love of riding horses because of the pain of keeping her knee in a bent position for too long.
She tried many ways to ease the pain including cartilage injections, cortisone injections and physical therapy. She was taking 12 Advils each day, tried homeopathic remedies and started cooking with turmeric after reading about its anti-inflammatory effects. She desperately wanted her body to heal itself, but nothing was working.
Connie had already undergone one knee replacement surgery and was nervous about having the other knee done. How she would manage crutches with her shoulder pain? A friend recommended she see Reuben Gobezie, MD, a renowned Orthopedic Surgeon and founder of Regen Orthopedics and the Cleveland Shoulder Institute.
Connie went in thinking she would need some type of shoulder surgery. But Dr. Gobezie recommended she consider non-surgical regenerative medicine for both her knee and shoulder. The treatment helps to speed the repair of bone, muscle, joint, soft tissue and nerve injuries. It stimulates previously damaged tissue to regain structure and recover, assisting the body's own healing process.
"Regenerative medicine in orthopedics is a trail-blazing treatment that replaces injured tissues with new, functioning tissues – regenerated from an individual's own adult stem cells," said Dr. Gobezie.
In Connie's case, the treatment enabled healing in the knee joint and shoulder and relieved her pain. Today, the knee treated with stem cells gives her no pain while the knee that did have the knee replacement does sometimes hurt. She has not needed surgery on her shoulder, and although she still has flare ups, the pain is gone within a day.
Connie is back to doing all the things she loves, including riding horses with her grandchildren and has plans to attend an intense golf camp this spring."I'm no longer afraid to try to do the things I want to do. I have the freedom to not worry, the freedom to try again. I am no longer thinking about pain all the time. Regen just didn't give me my knee back, it gave me my life back," she says.
How does it work?
Regenerative medicine treatments can activate your body's own stem cells to heal bone, muscle, joint, soft tissue and nerve injuries. The non-surgical procedure utilizes a sample of your own stem cells or blood platelets. When stem cells are concentrated and injected into a joint with arthritis or another form of pain, the body restarts a new healing response. The procedure is performed in one office visit and patients return to normal activities in a couple days. Most patients find their mobility is greatly improved and that pain relief can last up to eight years.
"More and more patients are looking for ways to avoid ongoing injection treatments or surgery and regenerative medicine can be an excellent alternative," explains Dr. Gobezie. "Although not all patients are candidates, we offer consultations to explore individualized treatment plans for each patient."
---
For more information or to schedule a consultation with Dr. Gobezie to review what's causing you pain, call 844-786-2355. Our office is located at 3755 Orange Place in Beachwood, Ohio. Learn more about Dr. Gobezie here.
CONDITIONS TREATED
Regen Orthopedics assists patients with painful conditions, including (but not limited to):
• Osteoarthritis
• Meniscus Tears
• Rotator Cuff Injuries
• Muscle Strains
• Tennis Elbow
• Achilles Tendinitis
• Other Forms of Tendinitis or Tendinosis
• Ligament Sprains
• Plantar Fasciitis
• Compression Nerve Injuries
• Nonunion Fractures